Welcome to the Zombicide: Black Plague Wiki
The place to find all information about the board game Zombicide: Black Plague, add-ons and expansions!
The popularity of the original board game Zombicide led to the creation of spin-off games and products. Starting as a Kickstarter campaign and eventually launched in 2015, Zombicide: Black Plague is a stand-alone game which brings Survivors attempting to save the medieval world from a zombie apocalypse. Survivors face zombies using swords, bows and magic. One to six players may engage in this fantasy setting to save their world from zombies.
Core Sets
These core sets are stand-alone games and do not require any additions to play.
Expansions
These expansion sets require at least one of the core sets in order to play.
Kickstarter Exclusives
The Zombicide: Black Plague and Zombicide: Green Horde Kickstarter campaigns offered Kickstarter exclusives to patrons that helped to fund the board games. Original Kickstarter backers may sell these exclusive items on consumer-to-consumer sites like eBay, Craigslist or Gumtree. These products are generally not available at retail, outside of special events that Guillotine games attend.
Categories
References & Fan sites
Latest activity
Photos and videos are a great way to add visuals to your wiki. Find videos about your topic by exploring Fandom's Video Library.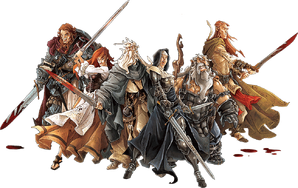 Community content is available under
CC-BY-SA
unless otherwise noted.